Chile unveils new scenic hike in wild Patagonia…but details remain rather sketchy
We are preparing for a trip to Patagonia next year. So it is no surprise that THIS announcement would get our attention…
According to the BBC…
"Chile has launched a huge scenic route through its Patagonian wilderness to boost tourism and highlight the need for conservation.
The Route of Parks covers 2,800km (1,740 miles) from the city of Puerto Montt down to Cape Horn.
The trail was the idea of Tompkins Conservation, the foundation set up by US billionaire Douglas Tompkins and his wife Kristine."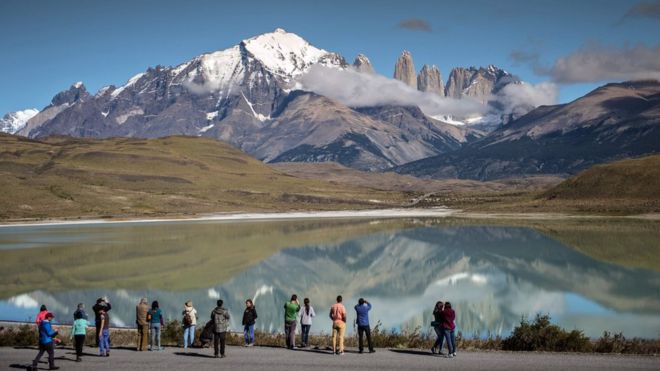 https://www.bbc.com/news/world-latin-america-45663960
Doug Tompkins, by the way, is the late philanthropist and founder of North Face.
The route has actually been in the works for years. It links 17 national parks, some of which were basically bought and paid for by Tompkins Conservation, the stewards of Tompkins vision.
Here's the main web page…it's quite impressive…
http://www.rutadelosparques.org
Per the foundation…"In 2017, Tompkins Conservation donated a vast amount of land to the Chilean government to spur the creation of five new national parks, leading the government to then reclassify 2.2 million hectares of reserves into national parks that now exist as part of the trail."
What exactly does this mean for the world's hiking community?
We're not exactly sure yet.
For starters, this is a VERY remote area we are talking about here. Much of Patagonian Chile is sparsely inhabited. In fact, parts of it are completely uninhabited…pure, roadless wilderness, whose rugged terrain, brutal weather and stingy growing season virtually make it settlement proof.
So even if you wanted to hike this route, it would be a major undertaking just to get in and out of these areas. Resupply, evacuation in emergency, and simply getting help if things go wrong may be impossible in many sections.
For another, details about the route are scarce. We know much of it follows unfinished sections of the Carretera Austral – the Alcan Highway of Patagonia. Beyond this, we know little.
We know that Torres del Paine is on the route. But, we don't know what trails connect to what. Is the 'W; Trek part of it? If so, we will be hiking part of this trail in perhaps a year's time.
The BBC's story helpfully contains an image of the Horns of Paine with the caption, "The Region Includes Spectacular Scenery." Well, yeah, but is THAT scenery on the route?
There are only a few good maps of the trail, and they are sketchy. The scale of Patagonia has to be understood…this is an area equivalent in size to the entire Rocky Mountains from Colorado to the Canadian Border…or the entire Sierra/Cascade Range.
Brian downloaded a map from rutadelosparques. It's…a very big map. 😊 With some very big parks on it. It looks something like a map of the western national parks of America. Hard to say where this route really goes, but it looks tempting.
Download map…
http://www.rutadelosparques.org/descargas/
The key phrase here is 'route'. This implies there is no actual trail…it suggests you make your own way, for now.
We expect that a full crossing of this thing would be a logistical and athletic undertaking probably many times more difficult than the Pacific Crest Trail.
National Geographic and Travel and Leisure have featured the route. We assume that it falls into the 'Travel' category. There would be nothing Leisurely about this.
https://www.travelandleisure.com/trip-ideas/nature-travel/chile-route-of-parks-trail-patagonia
https://www.nationalgeographic.com/adventure/destinations/south-america/chile/carretera-austral-southern-highway-route-national-parks/
We're determined to find more info on this bold and remarkable wilderness adventure! We'll keep you posted.